Join the API economy with the easiest way to build, deploy and manage API on IBM i
Profound API delivers an interface for your REST API
Getting employees the data that they need, at the speed they need it, can be a massive challenge for many companies. Every minute that your business delays can cost your business substantially. Fortunately, Profound Logic is here to help. Application Programming Interfaces (APIs) can simplify the entire production process and streamline your business, helping your company gain back valuable time and resources.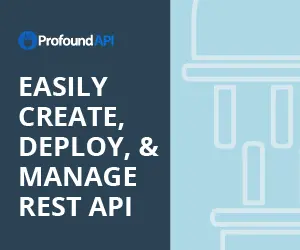 Profound API helps you easily integrate disparate applications and connect departments across your entire organization. This integration gives you a tremendous amount of critical data from your legacy systems and allows you to quickly leverage that data to increase business productivity and efficiency. Our performance-monitoring dashboard makes it easy to track the success of your system and address problem areas before any business disruption occurs.
Submit your information to learn more about how Profound Logic can help streamline your business today!
<![endif]-->
Trusted around the world
1000+ customers transformed their IBM i businesses with Profound Logic.
Let's write your IBM i AS400 modernization success story
Contact us today for a free modernization consultation from one of our experts.