The Challenge
While some of Brenntag's employees, especially those in data entry, were fine with traditional green screen desktop interfaces, those applications started to show their age over time and didn't support a modern workforce as well as modern Web and mobile applications could.
"Our sales force includes over 400 employees who work in-person and one-on-one with our customers," explains Todd Stewart, V.P. of Information Technology at Brenntag North America. "In the past, if a customer had a question about an order or product availability, the salesperson would need to call one of our customer service representatives to get that information."
The problem, however, went farther, says Stewart. "In order for our sales team to be truly effective, we needed to give them the tools to access real-time business data while on the road. We needed those applications to be modern, easy-to-use, and portable. And we needed a software solution that would allow us to deliver this project on time and budget. That's when we turned to Profound Logic Software."
"We needed those applications to be modern, easy-to-use, and portable. And we needed a software solution that would allow us to deliver this project on time and budget. That's when we turned to Profound Logic Software."
Todd Stewart
V.P. of Information Technology, Brenntag North America
The Solution
The Brenntag team agreed that modernizing and mobilizing their IBM i RPG applications was the right call. But what strategy would they take to accomplish this task? Stewart explains that they considered a few options.
"One idea we had involved migrating away from the IBM i platform and re-writing our software to what some folks in the market claim to be a more 'modern' language than RPG," he says.
"Another option was to rely on middleware to take our applications from the IBM i to the mobile device. But after close examination, it became clear that those methods could cost us hundreds of thousands of dollars in products and services, and there was no guarantee that the end-result is what we were looking for." Then, the Brenntag team explored a more native and intuitive method of modernization, using Profound UI from Profound Logic.
"The Profound Logic team demonstrated Profound UI and the Profound Mobile solution, and it quickly became clear that their products did exactly what they said they did, which is what we wanted," Stewart continues.
In addition to providing tools for modern desktop GUI conversion and development, Profound UI includes a Profound Mobile module, specifically geared to create robust, powerful mobile apps for any smart device.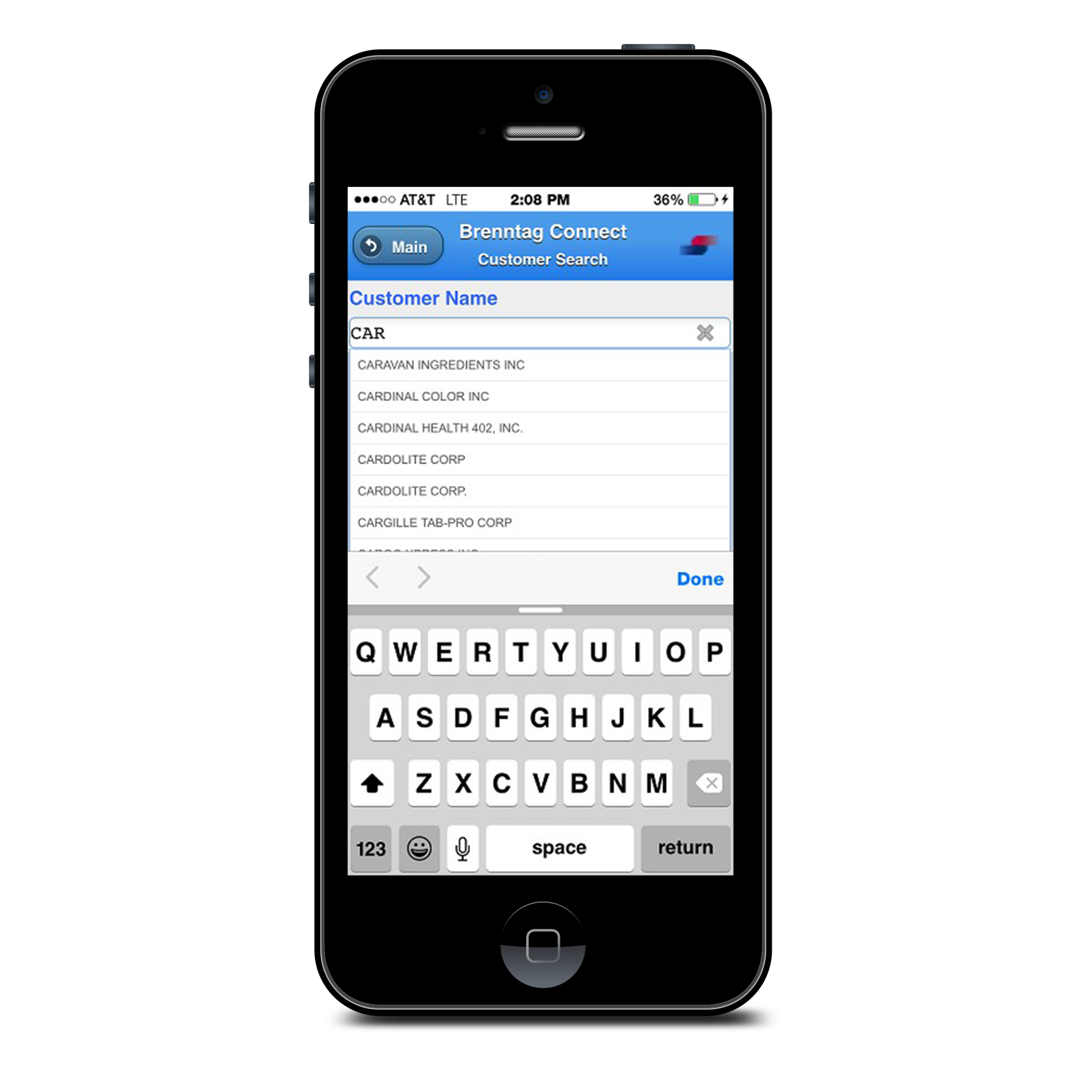 Profound Mobile applications deploy with native functionality for any mobile device.
"They beauty of the Profound Mobile tools is that we didn't have to be experts at mobile development to use them," says Stewart. "We could create mobile applications using the same, intuitive methods we use when developing RPG applications. The Mobile Visual Designer included with the module turns anyone into a mobile development superstar. And best yet, Profound Mobile supports all mobile platforms, including iPhone and Android."
With the Profound Mobile product, Stewart and his developers were able to go beyond just adding a GUI interface to their apps. They elevated their sales applications by adding an interactive dashboard that includes projected sales, product inventory numbers, customer order records, and more. Now, a Brenntag North America sales professional can meet with a customer and show him real-time information about his order, check product stock, record a voice note about a customer, and in the near future place an order for the customer — all within the mobile application. The sales rep can even send the customer Safety Data sheets with only a few taps on their cell phone.
In addition to the drag-and-drop Visual Designer and the mobile widgets that add a native look to any mobile application, Brenntag took advantage of Profound Mobile's integration with PhoneGap so they could add their own branding to the application. Customers can also opt to use the Profound Mobile Client, available in the Google Play and iPhone app stores, to make their mobile applications instantly available with native capabilities like Camera, Voice Recognition, and Signature Pad.
"I had a sales rep tell me recently that our new mobile application was the best thing he's seen in over 28 years in the business," Stewart explains. "Our sales teams are able to be more efficient, deals are closing much faster, and our customers are getting the real-time service they deserve. Our modern IBM i applications have significantly improved how responsive we are both internally and externally, and will definitely make us more competitive."
The Future for Brenntag
In addition to delivering the mobile solution to more than 400 people on their sales force, Brenntag has also replied on Profound Logic's solutions to deploy modern interfaces for other business-critical software.
"We have a fully-integrated ERP system that we developed and call BUS, which is in use by over 2,000 of our employees," states Stewart.
"With the products and services offered by Profound Logic, including Profound UI, we were able to give that system a rich, modern, Web 2.0 interface, plus we used their Mass Conversion service to quickly and easily generate these updates over thousands of screens."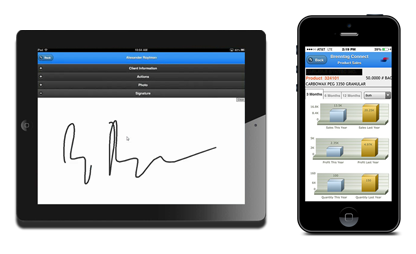 Charts, graphs, maps, notes, and signature pads make mobile applications more engaging and beneficial to users.
Stewart is still impressed with how much his team has been able to accomplish using Profound UI and Profound Mobile products, especially given that his team doesn't include any web or mobile developers — just RPG programmers.
"I have one RPG developer on my team that I've worked with for several years, who was skeptical that she would ever be able to deliver mobile applications," he says. "At dinner one night, she passed around her phone with the mobile application she created on there. She was so proud that she created something that cool, so easily!"
Stewart and his team also have big plans for Brenntag's applications moving forward, including applications for barcoding and finger signatures, using Profound Logic products.
"We highly recommend Profound Logic to any company looking to create modern and mobile IBM i applications. With their products, we developed top-notch mobile applications quickly, and deployed them on time and for a quarter of a million dollars less than other estimates. Their solutions have helped us breathe new life into our applications, and will ensure that our IBM i has a nice, long future. We believe in Profound Logic's products and people, and want to see the company continue to grow and bring more products to market!"